As soon as you've read a notification on your feed, you can mark it as 'Done'. To see actions marked as done, open the Done label in the menu.
When you want to get notifications and reminders out of your feed until it's time to tackle them, use 'Snooze'.
You are also kept up-to-date on developments around organizations, opportunities, projects or boards when you are a member of the accompanying team. Easily manage these alerts yourself by tapping the 'Follow' button for the entity in question.
In addition, you can comment on notifications or like them.
Manage notification settings
To access the main notification settings, tap the settings icon next to the VOGSY feed in the main menu. Here you will find an overview of all available feed and push notifications.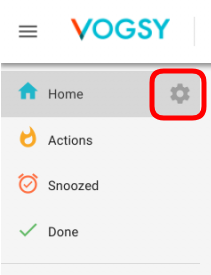 You can adjust these settings according to your wishes. Some notifications are grey can't be switched off though as they are regarded as being essential to get the most out of working with VOGSY.

Another option is to deactivate feed or push notifications from your feed, by tapping the settings icon in the top right corner of an alert or reminder.

Feedback
Thanks for your feedback.