This chart shows the billability per employee and visualizes the actual and future billability (planned/forecast) in one view.
Also, the targets of the employee are displayed (red markers). This makes this chart very useful to track if employees will meet their billable targets.
These targets are specified in function 'Employees'. With this function, the working hours and the percentage of billable hours can be configured for each employee.
Just like the billability per month, it's possible to display the billability by:
- Percentage: Calculated by the number of billable hours compared with the number of total working hours
- Hours: Displays the billability in absolute numbers (number of hours)
- Dollar (base currency): Expresses the billability in money by multiplying the number of billable hours with the sales rate of the calculation.
- Sales rate: Shows the average sales rate of billable hours.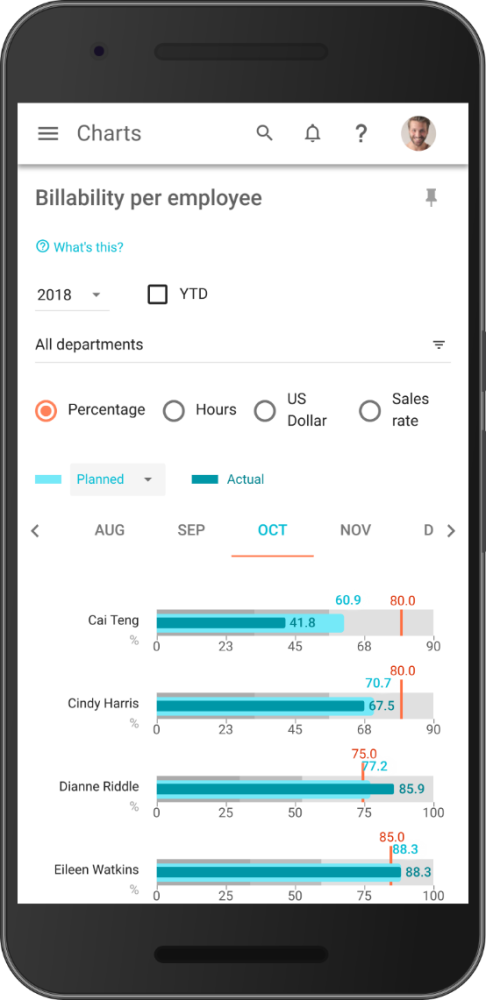 The dark blue bars show actual billability, which is based on tracked hours on projects for the displayed month.
The light blue bars show the billability based on planned hours and can be toggled. Tapping on it, shows two options:

'Planned' Shows all planned hours for the selected month. This makes it possible to see the delta between planned and actual.
'Forecast' Shows the forecasted billability based on hours spend (actual) added with hours planned for future days. This calculation should display what the billability will be for the current month or upcoming months. When 'Forecast' is toggled, past months will not show a forecast, because the actual hours of past months present the billability. For future months, the forecast is exclusively based on planned hours, since there will be no actual hours in future months.


Option 'YTD' shows the totals until the month which is currently displayed, by default starting from January, but it is possible to select another month if desired:
This chart offers a filter on departments, which allows you to filter the listed resources.
Also, it's possible to toggle last year, the current year or next year to look back and forward.
Feedback
Thanks for your feedback.